We want everyone to have access to trustworthy, expert financial guidance, where cost is not an issue.
In looking at the research around financial decision-making, our founding team stumbled upon two facts that we believe could form the basis for a great social impact non-profit:
1) Financial coaching is by far the most effective way to help you make progress on your money.
2) Most people couldn't afford to hire a financial advisor to figure out what they should be focusing on.
We took it a step further and partnered with renowned behavioral economist Dan Ariely and his team at Duke University to come with a high touch, high tech program that makes financial coaching accessible to millions of Americans.
And thanks to the amazing financial advisers (see some of our founding advisers below) who volunteer their time for free, we're able to offer a highly personalized, consumer-friendly program to help you achieve your goals.
Finally, rather than charging to cover our significant infrastructure costs, we decided to go with a donate-what-you-can model. This way, no one is excluded from working with an incredible advisor just because they can't afford it. And if you can't afford to donate anything, that's just fine - you'll receive the same great service as everyone else.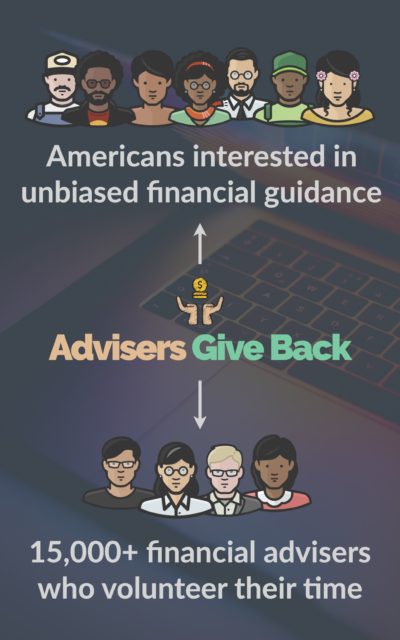 Meet our founding advisers
Amanda Fox, MBA, CFP®
Amanda believes a thoughtful advisor helps you crystallize what matters most in life. She's an outside partner who creates financial plans that hone in on your priorities, dreams, and moon shot goals. Real wealth is the opportunity to focus on life's possibilities, and then act on it.
Amanda lives in San Francisco and can often be found making herself at home in the great outdoors where she can put her background in the science, design, and art of plants to work.
Robin L Patin, CFP®
Robin's family taught her to work hard and pay bills. This advice is a good foundation, but she realized in her mid-30s that working hard and paying bills was building wealth - for her employer. She then began working with a financial advisor as a client. She is eternally grateful to that financial advisor for helping her transform her finances and her career. He inspired her to become an advisor.
Robin loves her work. She helps clients build and protect their finances and takes great pride in helping people create wealth and protection strategies for future generations.
Robin has a M.A. in Health from New York University and a B.S. in Management from Rensselaer Polytechnic Institute. She is a Certified Financial Planner and has four years of experience working in the financial services industry.
Jesse Pence, CFP®
Since joining the profession in 2016, Jesse has seen first-hand the incredible impact a financial expert can make when it comes to increasing financial confidence and achieving goals. People recommend her to their friends because of the impact this type of support has had on their life and how easy it has been.
Jesse grew up in Portland, Oregon and now loves living in San Francisco with her boyfriend. Jesse enjoys many outdoor activities including rowing on the beautiful San Francisco Bay, and hosting dinner parties for friends. Jesse recently got an Instant Pot and is excited to improve her cooking skills!
Jesse has a B.A. in Economics with a Minor in Finance from Claremont McKenna College in Claremont, California, and over 4 years working in financial services and customer support.
Daria Victorov, CFP®
Since 2013, Daria has seen the meaningful impact that financial guidance has had for the people she works with. She has seen how a background in personal finance helps people make smarter financial decisions and reach their goals.
Working as a financial planner has allowed her to pursue a path that she loves and help others avoid making some of the same mistakes she has in the past. With just some small changes, she's confident your work together will help you be much better off financially.
Daria grew up outside of Washington DC and now loves living in San Francisco with her cat and dog. Daria enjoys many outdoor activities including hiking, cooking, and volunteering.
Daria has a B.S. in Applied Economic Management with a concentration in Financial Planning from Virginia Tech, and almost 10 years working in financial services and customer support.
Are you a financial adviser who wants an easy, meaningful way to give back?
Would you appreciate a team of support staff to manage the ongoing communications with people seeking financial help, so that you can focus on doing what you do best?
Then you've come to the right place.